1948 was the year that the Land Rover made its debut. The simplicity of its design gave it an unrivalled durability and strength that is still at the core of its appeal today. Over sixty years later it is estimated that up to two-thirds of all Land Rovers are still at work today, many of them in the most inhospitable places and extreme conditions on earth.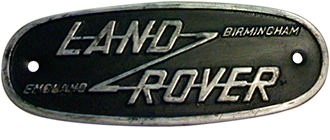 When the first Land Rover was built in 1948 its fortitude and ability to perform in the most extreme conditions was its main priority. With incredibly robust engineering and design features such as short front and rear overhangs, the Land Rover drove off the production line prepared and able to take on the toughest terrains the world had to offer. Today these qualities are as important to what makes a Land Rover unique as they were over 60 years ago.

The Land Rover was the subject of continued evolution and fine tuning throughout the 1950's and 60's with enhanced stability and a tighter turning circle. This was a time when the Land Rover emerged as the pioneer in the four-wheel drive market. As a durable, dependable mode of transport many organisations came to rely on Land Rover vehicles to get personnel and equipment into the most demanding locations… and then safely out again. From organisations such as Born Free Foundation to The Royal Geographical Society and Biosphere Expeditions – Land Rover has proven that its reliability is second to none.
In keeping with the innovative philosophy that is at the very core of the Land Rover ethos, a revolutionary new concept was introduced in 1970 and became its very own vehicle category. The ground breaking phenomenon was the original Range Rover. It offered all the durability and strength of the Land Rover with the convenience and comfort of a regular on road car.
The pioneering culture has led Land Rover and Range Rover vehicles to break down more and more barriers, with new models, more refinement, cutting edge technology, better efficiency and lower emissions being part and parcel of the brand.
As we head further into the 21st century Land Rover remains at the forefront of innovation and design with the company's desire and determination to stay one step ahead of the pack.